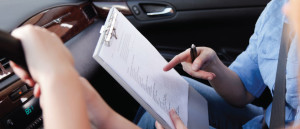 Knowledge Test
$30 (+3% for online payments)
Saturday 9:45am
Tuesday 5:45pm
Or By Appointment Only
Driving / Skills Test
$40 (with customer's vehicle)
$60 (with school's vehicle)
(+3% for online payments)
Monday – Saturday
9:00am to 5:00pm
By Appointment Only
Knowledge tests are available in seven languages:
English
Chinese
Japanese
Korean
Russian
Spanish
Vietnamese
Knowledge Test: $ 30 for two attempts (Walk-ins no appointment needed these two days, all other days/times by appointment only)   Saturdays 10:00am to 11:00am (We do not accept anyone after 10:15am) Tuesdays 6:00pm to 7:00pm (We do not accept anyone after 6:15pm)
Bring photo ID
Must have your Washington ID number
Customers that are 5min late for their appointment will have their test cancelled and will not be given a refund
Rescheduling will be permitted 1 time when given a 24 hour notice.
Skill Test: Monday to Saturday: By Appointment only
EHDS can provide you a vehicle to take the skill  test for  $60.  If not using our vehicle, the test will be $40
Things to know for the driving test:
·     Backing·     Speed control

·     Distance judging

·     Control of Vehicle

·     Obey traffic signs

·     Right & Left Turns

·     Crosswalks

·     Intersections·     Arm Signals

·     Parallel Parking

·     Driving in traffic

·     Steering

·     Marked Roads

·     Blind Spots

·     Hill Parking·     Lane change

·     Start your vehicle

·     Stopping

·     Unmarked Roads
Check your vehicle before the test:
Doors open from both the inside and outside.
Headlights, taillights, turn signals, and brake lights must be in working order.
Seat belts must work properly
Insurance
EHDS is authorized to do the knowledge and the skills test. If you don't have Washington  ID or Permit please pre-apply using this link www.dol.wa.gov and then give us a call to make a test appointment.